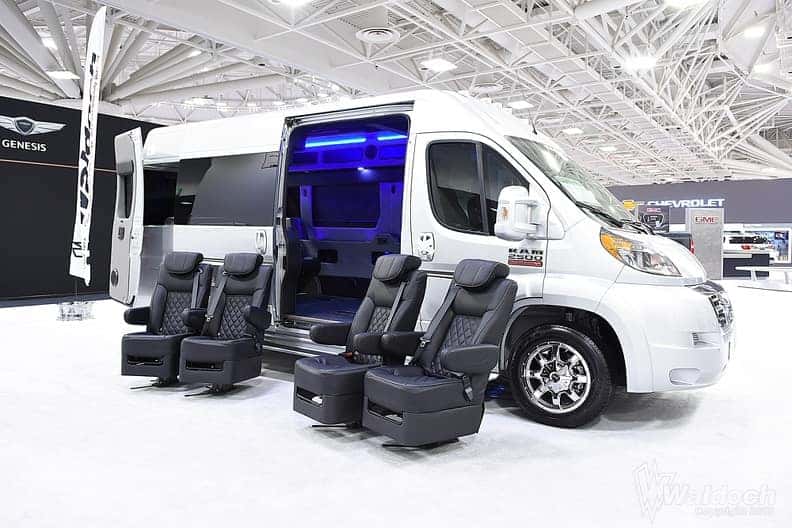 One great experience after the other.
Bayer Auto Group is an authorized Galaxy Van dealer supporting Dallas, Texas. This means you can go to see a Waldoch Luxury Conversion Van in stock at Bayer Auto Group and test drive or take one home today. If you don't see what you want, Bayer Auto Group can custom order one just for you and get you an elegant luxurious vehicle in as little as in 6-8 weeks. Build you own Van here – Waldoch.
CUSTOM LUXURY VAN REFINEMENTS AND FEATURES
Our top of the line galaxy package vans feature color keyed side moldings, bumper insert fog lights and all trim pieces painted for a polished and elegant look.
Premium seating features leather fully adjustable captain's chairs with added comfort like power lumbar power recline and heat for lasting comfort. The fully automatic rear bench that reclines to a bed is a great feature for those impromptu rest stops on a long road trip.
At each passenger seat enjoy all the comforts and conveniences you would expect from a Waldoch van like USB charging ports, individual passenger lighting and climate control venting. Close all the shades and use the LED mood lighting to enhance the cinema experience provided by an LCD display and surround sound. TV that flips down out of the headliner 32″ large and LED 1080P screen.
When your family is on the road, travel with style, comfort and convenience. Enjoy features such as a GPS Navigation, custom wheels, as well as rear heat and air. When it comes to your comfort Waldoch vehicles leave nothing to chance. Come see for yourself.
Check out some of the Videos at our You Tube Channel
CONVERSION VAN WARRANTY 3 YEAR 36,000 MILES – SERVICE
Looking for a custom luxury van in the Texas area can be hard at times especially finding a company that comes with a full back warranty, 3-year, 36,000 miles. At Bayer Auto Group, inventory is a one-stop shop for Ford luxury vans. Check out our manufacturer – Waldoch.
BRING YOUR TRADE FOR EASY TRANSITION
We don't care what make or model you were driving before we are happy to take any vehicle on trade for one of ours. We always pay top prices to make your transition as trouble free as possible.
PURCHASE PROCESS MADE EASY
At Bayer Auto Group, we provide financing on all luxury conversion vans, new or used. All the paperwork is handled by us. The Bayer finance department handles registration, title transfer and purchase agreements. All new conversion vans offer a full factory 3/36 warranty. We also offer extended warranties on new and used vehicles. For details on financing, click the link Conversion Van Financing.
PICK-UP OR DELIVERY SERVICE
Fly in and drive off! You can fly into Abilene, Austin-Bergstrom, or DFW International Airport and Bayer Auto Group will pick you up. Bayer Auto Group also delivers it direct to your house and will pick up your trade in, if applicable.
Photo Gallery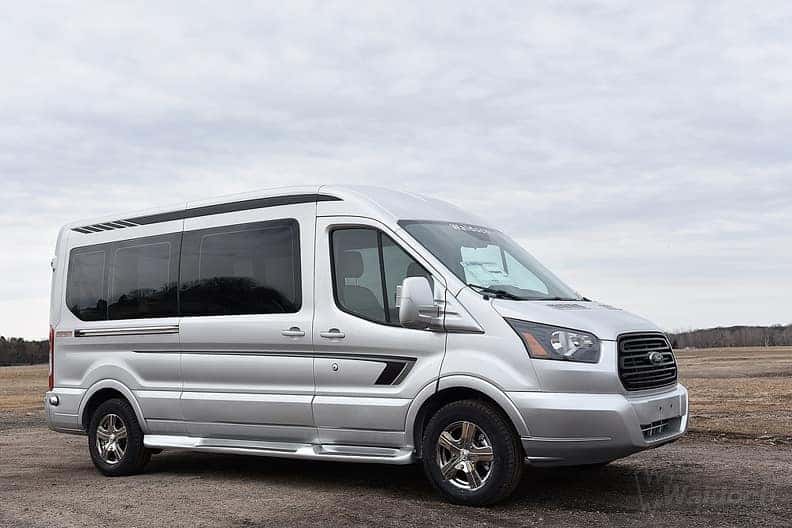 We translate every feature into a customer benefit. Every time.
It's not so much about what kind of insulation is in a Waldoch luxury conversion Van—-how much or how thick it is. It's about how quiet the ride is, how you can easily talk to the folks 2 rows back, share conversation and laughs as you head on down the road. That's the feeling of it, that's the benefit.
Yes, the technology and materials we use are the best in every choice and detail. But it's all about the ultimate experience for our customers. It's about how every want is satisfied. It's about how our customer feels in our vans.
So we lead with the dream. We're all about the fun, the comfort, the versatility. We're for all the trips and activities that make the journey as good as the destination
For those with a life full of family and friends with places to go and things to do
Our customized vans can seat 7 to 9 people comfortably. Ample leg, foot and hip room. Like a living room on wheels.
If you transport sports teams and ferry loads of kids to activities, this is the ticket. Time spent in this spacious van is fun for kids, a chance to strengthen the team bond that becomes part of the whole experience.
Have a group of pals you fish with, a tailgater's club, golf group? The party starts the moment you pick up your friends in this luxury van.
For your weekend getaway.
You don't have to wait to get to the cabin for the fun to begin. in a Waldoch Van it begins the minute you roll out of the driveway. The comfort and space, the entertainment options, the easy swivel seats made for great conversation or car games. It's like a cabin on wheels on the way to the cabin!
For a super cushy ride.
Sink into our luxury Waldoch seating. So roomy. Best frame, cushioning and durability in the industry. It's more than a car seat, it's total comfort furniture.
For people who love music.
Turn on the gorgeous surround sound system that reaches evenly to every inch of the Van. You can connect your favorites right thru your phone, from tunes, to podcasts, to audio books.
For those who don't want to hear "How many more miles?" One more time.
Press a button and a full screen TV comes down. Tune in a movie for the kids and the miles fly by. Or watch the pre game show at a Tail gate party. Or make a rainy day trip full of your choice of entertainment.
For those who want to talk to the people in the other row?
Just swivel your seats around and chat with your fellow travelers, face to face, as if you were in a living room, instead of a van.
For the night travelers.
Your fellow travelers can enjoy a good book thanks to our reading lights. And if you want to sip a soda while you read, our cup holders light up for you, hard to miss or spill.
For the treasure collectors, the flea market fans, the DIY project people.
Our quick release seats makes it seem the chair is almost popping itself out, leaving you with plenty of room to haul all your treasures, tools and materials.
For a place for everything.
Hunting, fishing, hauling little leaguers, it all comes with a lot of stuff. Find storage units tucked all over our luxury vans, no need to give up valuable room to equipment.
For the retired adventurer?
Our vans make days and days on the road one of the best parts of the trip. Plenty of space for your co-pilot to stretch out and relax, read, or nap. When the scenery is in "between shows " This van is a comfortable relaxing place to be.