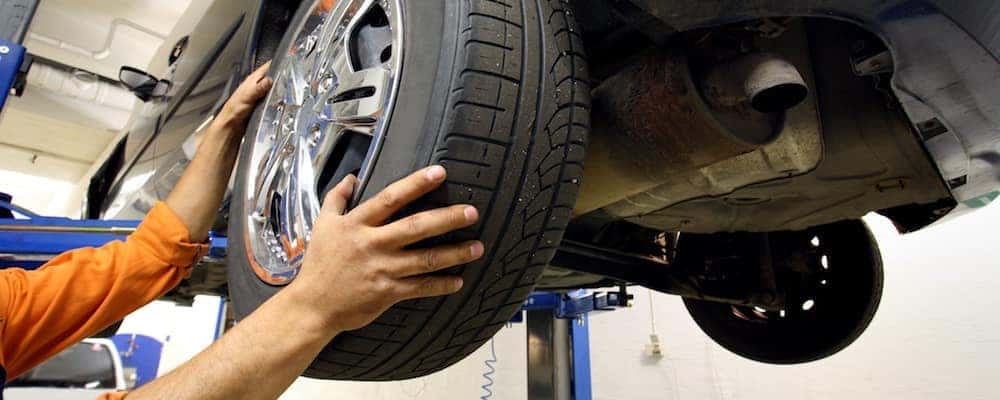 What Is Tire Rotation?
Tire rotation is an important part of vehicle maintenance in Stephenville that helps prevent one or more of your tires from wearing down too fast or at irregular rates. This service is important to achieve optimal traction on the road, prevent tire blowouts, and even improve your fuel economy in Brownwood. Learn more about tire rotation with the auto service experts at Bayer Auto Group, and be sure to contact us if you have questions along the way!
What Does Rotating Tires Mean?
Tire rotation might seem complicated on the surface, but it's actually a pretty easy process to understand. Simply put, your tires are moved from one position on your vehicle to another. Most of the time, the front tires move to the rear and the rear tires move to the front, and on some vehicles they might also change sides, meaning the rear left will move to the front right and rear right to the front left – this is known as the tire rotation pattern. Additional tire rotation facts to know include:
The majority of vehicles carry more weight in the front, causing the front tires to wear out faster, but your vehicle's drivetrain will also affect the wear rate for each tire.
Here's an example: With front-wheel drive cars, power is sent to the front axle and wheels to produce forward motion. This means the front tires will wear faster than they would in rear-wheel, all-wheel, or four-wheel drive models.
This also means that your car's drivetrain will impact the tire rotation pattern, in order to help ensure one or two tires don't wear down faster than the others.
What Does Tire Rotation Do?
In addition to "what is tire rotation?" you may be wondering "what does tire rotation do?" Here are the main reasons you should follow a regular tire rotation schedule:
Better Traction: As your tires wear down, they begin to lose tread depth, which leads to decreased traction on Abilene roads. This can impact your ability to control your vehicle in inclement weather and other situations. Regular tire rotation helps ensure all tires wear at the same rate and have equal amounts of tread depth.
Prevents Blowouts: The more your tires wear down, the likelier they are to blowout when you're driving to Granbury.
Improves Performance: By preventing uneven wear, tire rotation helps avoid uncomfortable vibration when you're driving, which can be felt through the steering wheel.
Maximizes Efficiency: When your tires are worn out, your vehicle is more susceptible to drag, engine strain, and increased fuel consumption.
Learn More About Tire Rotation at Bayer Auto Group
Most vehicles require a tire rotation every 5,000 to 7,500 miles. This should fall during your regularly scheduled service intervals, making it easy to keep up with this important service task. Consult your owner's manual for model-specific information, and if your vehicle is overdue for rotation, be sure to schedule an appointment at Bayer Auto Group! Our expert service techs will get the job done right in a jiffy – just don't forget to check out our service specials beforehand to help you save!
More From Bayer Auto Group
We talk a lot about the perks of having a powerful SUV. If you want to see that in action, take a look at the 2023 GMC Acadia towing capacity—it reaches up to 4,000 pounds, which is a fantastic number for a midsize three-row SUV. With that kind of towing capacity, the 2023 GMC…

How much can a Ford Maverick tow? Comanche drivers who like to tow their boat or camper out to the lake on the weekend will be glad to know that the maximum 2022Ford Maverick towing capacity is a massive 4,000 pounds when properly equipped, or 2,000 pounds at its base level. Let's talk about…

When Stephenville drivers are in search of a heavy-duty truck that can handle their biggest towing jobs, time after time they turn to the 2022 Chevy Silverado 2500 HD at Bayer Auto Group. The 2022 Chevy Silverado 2500 towing capacity can reach an astounding 18,500 pounds when properly equipped with the 2022 Chevy Silverado 2500 towing…